Quartus Engineering has a broad set of experience designing optical systems across industries and operational environments, including lens design, laser systems, WFOV & NFOV imaging systems, LIDAR, and astronomical telescopes and instruments. Quartus is an industry leader in providing analysis that couples optical performance with structural and thermal response models, and has leveraged these skills and an extensive history of mechanical engineering experience to provide complete optical systems in any part of the lifecycle from rapid turn prototypes to production level systems.
CAPABILITIES
Optical Design & Engineering
Full turn-key optical design capabilities
Compact optical designs to meet constrained mass/volume requirements
Optical design/analysis in Zemax, FRED, and CodeV

Lens design
Sensor selection
Optical sensitivity and Monte Carlo analyses
Monte Carlo tolerance analyses
Specular/non-specular stray light analyses
Illumination source selection and
delivery optics
Beam propagation
Field illumination uniformity
High powered lasers

Atmospheric modeling using internally developed wave propagation tools, MODTRAN, and HELEEOS​
Opto-Mechanical Design
Mechanical layout trades support the concept design phase
Expert design for thermal and structural stability
Design for manufacturing and assembly (DFMA)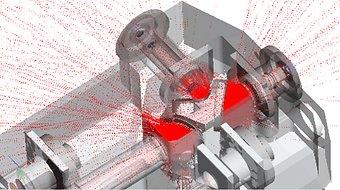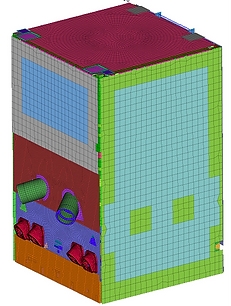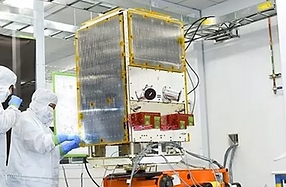 CASE STUDY
SkySat Imaging Constellation
SkySat is a LEO satellite constellation of Earth observation satellites providing sub-meter resolution images, videos, and analytic services. To date, 19 second generation SkySat satellites have been successfully launched by four different launch vehicles and are currently in operation by Planet.
Quartus engineers supported the SkySat program for several years, from pre-PDR concept development through qualification and acceptance testing. The 2nd generation SkySat system presented several engineering challenges:
The structural architecture needed to be robust enough for launch qualification on a variety of launch vehicles, leading to challenging, enveloped random vibration environments.
A new propulsion system required a redesign of the core structural architecture with minimal mass and payload dynamic environment impacts.
The sensitive optical payloads required minimizing structural dynamic amplification through the bus structure.
Multi-phase CFD required to predict on-orbit propellant dynamic loads.
Thermal distortion analysis required for sun-synchronous orbit.

Temperature mapping from on-orbit thermal analyses.
QUARTUS AWARD
2019 NASA Engineering Safety Council (NESC) - Group Achievement Award
Honors a team of employees comprised of government and non-government personnel. The award is in recognition of outstanding accomplishment through the coordination of individual efforts that have contributed substantially to the success of the NESC mission.
Development Flight Instrumentation System Test and Analysis Assessment Team - Quartus
"In recognition of exceptional innovation and implementation in the development of a complete Artemis-1 system development flight instrumentation system analysis to assess expected flight behavior" - https://www.nasa.gov/nesc/awards/2019