Quartus' experience developing reliable mechanisms for challenging spaceborne and airborne environments spans a variety of applications – from precision pointing electro-opto-mechanical devices for free space laser communication satellite constellations to simple yet highly reliable launch restraint designs. Our innovative team can offer a full suite of engineering services to address your challenging application.
CAPABILITIES
Complete Development Cycle
Requirements definition, systems engineering, conceptual trade study, risk reduction testing, detailed mechanism design/analysis, assembly, integration, and test
Cleanroom environment
Spaceborne and Airborne Applications
Positioning and pointing systems
Launch restraints
Spacecraft deployables
Flight control actuators
UAV launch systems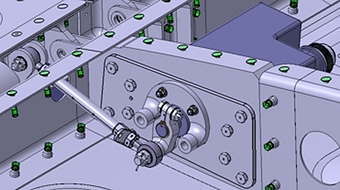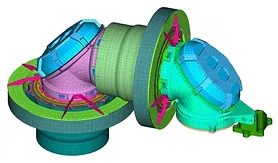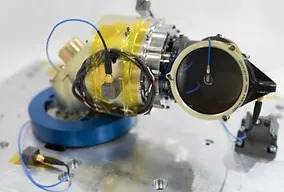 CASE STUDY
Spaceborne coarse pointing mechanism with launch lock for laser communication
Quartus engineers designed, analyzed, built, and fully tested a spaceborne dual axis gimbal mechanism for high-throughput optical inter-satellite links. The effort focused on lowering manufacturing costs, minimizing complexity, and reducing risk for high volume manufacturing (targeted +1,000 per year) for a coarse pointing assembly and launch lock device for satellite constellation communication. The coarse pointing assembly was capable of providing precision line-of-sight articulation over a near-hemispherical field of regard, all while using mainly commercial off-the-shelf components.
2019 NASA Langley - Small Business
Sub-contractor of the Year

"...we turned this entire prototype around in just over 6 months from mostly clean sheets of paper to working prototypes…it is our nimble and

development-supporting vendors, such as Quartus (a rare bird in this manner), who really made the program a success."


-Matt Michel, Northrop Grumman Docking Mechanisms System Architect