Complete Optical Systems Development and Delivery.
Quartus Engineering has a broad set of experience designing optical systems across industries and operational environments. Quartus is experienced in:
Lens Design
Laser Systems (VIS, EUV/DUV, NIR/MWIR, LWIR)
Imaging Systems (WFOV, NFOV)
Diffractive Elements
Imaging LIDAR and other 3D systems
Free-space Laser Communications
Astronomical Telescopes and Instruments
Display technologies
Large format holographic recording
Large optical components and assemblies
Quartus has leveraged these skills and an extensive history of mechanical engineering experience to provide complete optical systems in any part of the lifecycle from rapid turn prototypes to production level systems.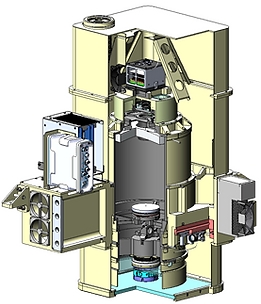 STRUCTURAL, THERMAL, AND OPTICAL (STOP) ANALYSIS
Quartus Engineering has long been a name associated with high caliber mechanical engineering analysis. These analytical capabilities lend themselves well to accurate prediction of optical performance through all operational environments. To further these capabilities, Quartus has developed a proprietary, integrated opto-mechanical analysis software tool that couples optical performance analysis with structure/dynamic and thermal response models of opto-mechanical assemblies. This allows Quartus to efficiently optimize optical performance metrics (e.g., wavefront error, distortion, encircled energy, image magnification and stability, entrance pupil magnification and wander) for deterministic environments. An internal optimization code determines mounting support number and layout to minimize RMS surface figure errors, slope-RMS, etc.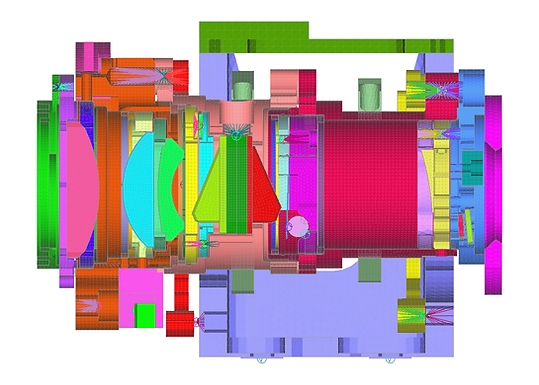 DETAILED OPTICAL ENGINEERING CAPABILITIES
Quartus has experience in wide array of optical modeling. These include:
Use of industry leading software, such as Zemax, CODE V, and FRED;
Matlab and other coding for modeling, such as complex optical simulations, algorithm development, atmospheric propagation, and interferometric modeling
Image processing and LIDAR point cloud generation
Holography design and recording
Illumination modeling and stray light analysis
MARKETS SERVED
Government
Military
Industrial
Consumer, Medical

BROAD EXPERIENCE WITH INNOVATIVE SOLUTIONS FOR HIGH PERFORMANCE OPTICAL SYSTEMS
General Lens Design
Laser Systems (VIS, EUV/DUV, NIR/MWIR)
LIDAR and other 3D imaging systems
Astronomical telescopes and instruments
NTE/HMD development
Various display technologies
Fiber Optic coupling
Spotting scopes (Handheld)
Diffractive elements
Illumination system design
Imaging systems (WFOV, NFOV)
Interferometric/Metrology systems
Airborne
Space-borne
COMPLETE ENGINEERING DESIGN AND ANALYSIS CAPABILITIES ACROSS PRODUCT DEVELOPMENT LIFE CYCLE
Integrated Opto-Mechanical Analysis
Atmospheric Propagation Modeling
Software / firmware including algorithm development
Optical Design and Analysis
Structural, Thermal, Optical Performance (STOP) Analysis
Production Unit Delivery including system integration and test
Manufacturing