Quartus has a 5,000 SF., 12 ft high ceiling, Class 10,000 (ISO 7) cleanroom space comprising five separate rooms and a gowning area. Each room is equipped with individual laser safety systems, oversized entry for large components, environment monitor and controls, test equipment, and secure access to provide job specific optimization and to allow customers' proprietary/sensitive projects to be performed in isolation. The layout of the cleanroom complex was designed to allow long throw lasing and imaging capabilities up to 100 ft to be done within the cleanroom space and within a laser safety controlled environment.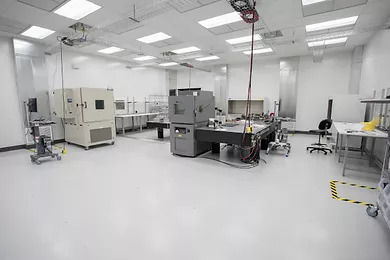 DEVELOPMENT EFFORTS
Quartus has experience leveraging cleanroom capabilities to develop cutting edge technologies to solve our customers' challenging problems. Quartus has a large array of optical components to quickly assemble appropriate test setups to adjust or measure optical systems as appropriate. In many cases, Quartus has provided particular solutions to problems that are generally considered outside the capabilities of a standard design house. This includes researching and developing a holographic recording process to meet the high performance requirements beyond what traditional suppliers could achieve.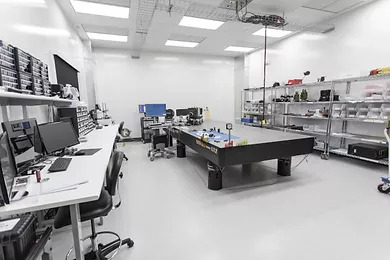 PRODUCTION ENVIRONMENTS FOR OPTICAL SYSTEMS
Quartus' new facility was developed to allow the appropriate compartmentalization of developmental and production projects. Quartus can establish production lines inside a particular cleanroom within the cleanroom complex to control access as required.
Equipment/facilities for assembly support:​
Five Class 10,000 independent access controlled and interlocked cleanroom areas ranging from 500 sq. ft to over 1000 sq. ft.
Multiple Class 100 Flowbenches
Long throw lasing capability up to 100ft within cleanroom and laser safety controlled environment
Zeiss Contura 7/10/6 CMM
Multiple 300mm f/5 Off-axis-parabolic mirrors and steering flats
Spectrometer
Beam profiler
Power and energy meters
High speed photodiodes
Multi-axis stepper motion control stages
Illumination sources (Laser and LED), and detectors operating at various wavelengths
Full suite of assembly tools and fixtures for both imperial and metric components
Custom alignment and metrology fixtures/tooling as needed
Custom alignment automation protocols utilizing wavefront sensor, autocollimator, and image processing feedback
Air bearing for mechanical alignment of optics and rotary assemblies
Vibration isolated optical tables
Carbon Dioxide Snow Cleaner for sensitive substrates
Full suite of assembly tools and fixtures for both imperial and metric components